Can't quite believe I've failed to do this already.
Just over a week ago, Elephant Words went through it's biggest changes to date. As well as everything else, this means that it was my first week away from the site.
As it turns out, the new roster did the site proud, and some of the pieces even made it straight to the top of my all time favourite Elephants.
They were based on this image, posted by Andy Cheverton, taken by Princess Bala Vera:
Long-time supporter, first-time contributor Chris Beckett kicked off the week with a tasty bit of satirical spy adventure, called "Captain Scorpio":
Peering through the tangle of branches beneath the covering of green, Jack Scorpio pushed his shoulder into the hedge and tried to shove his way through. He'd gotten most of his arm into the thicket when an electrical shock ran up his arm and shuddered through his body. The voltage seized his muscles, causing the V.I.R.T.U.E. agent to collapse in the dirt, wheezing as his heart pounded in his chest.
Tuesday saw a brand-new contributor, in the shape of Dan Lester, mini-comicker and film-maker extraordinaire, who delivered sharp and snippy film industry commentary in "The Pitch":
He clears his throat and says, "well, it's about a serial killer."

"I start letting out a sigh of despair, but manage to disguise it with a cough. This will be the fifth pitch about a serial killer since lunch."
After a brief scheduling hiccup, Monk Eastman, show-runner over at the awesome "50 Years From Now" flash-fiction site, brought the dark and crooked criminal noir with "Magnetic Letters":
Even when they were kids, Artie played grown-up. Foraging for their food, protecting little Allie from mother's drunken spells, teaching how to throw a punch, how to make a buck. He'd always been the leader, the warlord, the master crook. Now? Allie makes a low moaning sound, his eyes watering, sinuses burning. He tracks the fresh purple scars crossing his brother's head, pretends they're undiscovered country–like he doesn't already know their contours so intimately.
And then it was Xander Bennett's turn to amuse and bewilder, as he has been doing since the beginning of the site, with the disturbing and brilliantly realised Kafkaesque "Incohere":
I'm losing all my words. All my best words are falling away, drying up in my brain. There's a thief in my homicile, stealing away my words. Comparing me over and over to forget. So I make up new words.
At which point, on Friday, David Baillie, a regular contributor since the beginning of the year, totally brought the "shock and awe" with a pictorial that you really need to see, called "Once Upon A Time". Really, this is the sort of thing I was hoping people would get up to when I started the site, and alongside all of the awesome work that's been done over the last year and a bit, it gives another little vindication to the work I put in.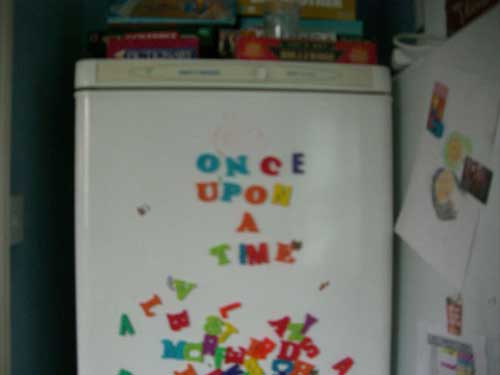 And finally, on Saturday, old buddy and co-conspirator, on a welcome return to the site that he helped launch, Andy Cheverton, broke my heart and then made it all better again with the very human tale of heartbreak and loss, "Trixie's Last Kiss":
Sometimes I dream that I'm about to get that kiss, that Trixie runs and jumps up at me, confident that I'm there to catch her, and then I wake into a dark room where the only warmth in the bed is my own, there's a cold breeze coming from somewhere else and the slight tingle of her hair brushing my cheek fades into nothing as it goes.
As if you didn't already realise, I think you should go over there now, and read, read, read… it is one hundred and ten percent awesome, and that isn't even possible…!